< Programme < Cinémathèque française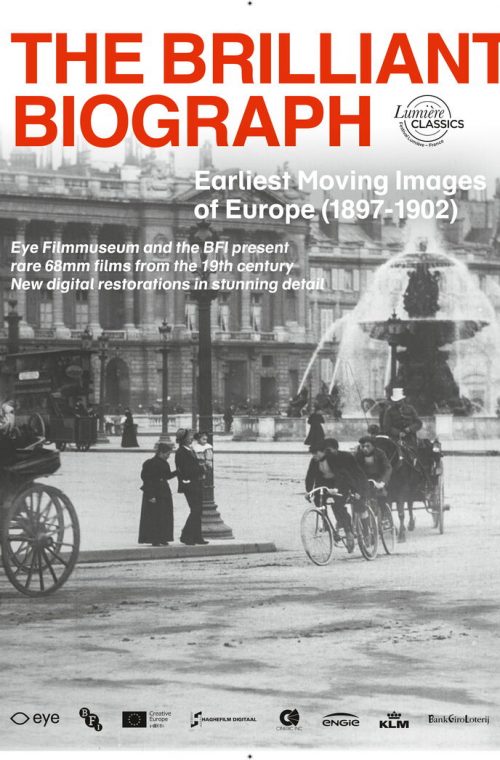 1897-1902, 52min, noir et blanc / couleurs (peint à la main), format 1.33 / musique

Intertitres anglais sous-titrés français
Pays-Bas, compilation réalisée en 2020 par Frank Roumen
Accompagnement musical par Daan van den Hurk
Courtoisie du EYE Filmmuseum
Maintenant sur EYE Film Player!
Résumé
Compilation de films 68mm de la Collection Mutoscope-Biograph du EYE Filmmuseum d'Amsterdam et du British Film Institute de Londres. La qualité d'image rare est due à l'invention de William Kennedy Laurie Dickson (associé à Elias Bernard Koopman et Hermann Casler), contemporain des frères Lumière, convaincu du potentiel de la projection publique des images animées, de la nécessité d'aller au-delà de l'individuel Kinetograph d'Edison. En route pour un tour de l'Europe des premiers temps du cinéma en musique, avec des cartes postales cinématographiques de Venise, Berlin, Amsterdam ou Londres, et des scènes documentaires de vie quotidienne, sur l'eau ou sur les planches. Artistes, ouvriers, enfants, sportifs, parisiennes, tout le monde pose pour le Biograph. Avec une définition d'image qui approche celle des projections IMAX, voici l'Europe d'il y a 120 ans !
I. Daily Life
Recreation in Scheveningen, NL 1898
Countryside Near Amsterdam, 1898
Hungarian Family, 1897
Pleasure in Berlin, 1899
Public Transport in Amsterdam, 1899
Funeral Procession in Rome, 1898
Flower Parade in Haarlem, NL 1899
Capuchin Monks in Vatican City, 1898
The Vegetable Market in Venice, 1898
Inventor William Kennedy-Laurie Dickson Feeding Pigeons in Venice, 1898
Audience Leaving Circus Carré After the Biograph Show in Amsterdam, 1899
From Monte Carlo to Monaco, 1899
II. Riding the Waves
Malta, 1901
Scheveningen, NL 1898
Muiden, NL 1900
Southampton, UK 1898
The River Zaan, NL 1898
Naval Exercise, UK 1899
Portsmouth, UK 1899
Warships, UK/DE 1900
Conway Castle, North Wales, UK 1898 (hand-colored)
III. Greetings from…
Paris. Place de la Concorde, 1897
Berlin. Altes Museum, Unter den Linden and Friedrichstrasse, 1897 and 1899
London, 1899
Southampton High Street, 1900
Amsterdam. Central Station and Prinsengracht, 1898 and 1899
Venice. Grand Canal and Ponte dei Sospiri, 1898
Maidenhead junction, UK 1898
IV. Moving Forward
Captain Deasy Promoting Martini Cars, Switzerland, 1903
Launch of the 'Oceanic', the Largest Vessel Ever Floated, Belfast, 1899
Iron Foundry Workers, Newcastle, 1899
The Marvin Electric Drill, 1898
Sir Hiram Maxim Demonstrating His Guns, 1897
Advertisement for Rudge-Whitworth Bicycles, 1902
Windsor Castle, UK 1899
V. Body in Movement
Agoust Family of Jugglers, 1898
Upside Down Boxers, 1899
Orphan Girls in Amsterdam, 1899
French Military School Exercise, 1897
Catching the Ferry in Amsterdam, 1899
The Island of Marken, NL 1899
Roma Camp, 1897
The Tarantella, 1898
At the Ancient Forum of Pompeii, 1898
'Les Parisiennes', 1897 (hand-colored)
Mentions
En 2000, le festival de Pordenone, Giornate del cinema muto, montrait en 35mm les premières restaurations de films Mutoscope et Biograph montées par Nico de Klerk (historien archiviste au Nederlands Filmmuseum, aujourd'hui EYE). En 2020, le numérique permet de retrouver ces films 68mm, format non standard, sans diminution ou réduction de l'image, lors de la restauration d'après les bandes originales ou de la projection, reproduisant toutes les caractéristiques exceptionnelles de ce format large (six à sept fois plus grand que le 35mm). Le programme The Brilliant Biograph est une compilation d'une cinquantaine de films récemment restaurés en 8K par EYE, grâce au financement de la Commission Européenne (European Tribute to Film Heritage), en coopération avec le BFI à Londres. Un DCP 4K en musique a été établi en 2020 par EYE, pour assurer une large diffusion de ce répertoire sensationnel. Remerciements particuliers à Elif Rongen-Kaynakçi (EYE).
Retrouvez le dossier consacré à la collection Mutoscope-Biograph sur le site de EYE: https://www.eyefilm.nl/en/collection/search-and-watch/dossiers/68mm-the-mutoscope-and-biograph-collection-at-eye
Retrouvez le making-of de la restauration des films en 2020 (nombreux plans de bandes originales 68mm): https://youtu.be/S0s9-YrYs0E
Retrouvez les trois caméras pour film 68 mm Mutoscope-Biograph (modèles datant de 1896, 1897, 1898) conservées à la Cinémathèque française et issues de la Collection Will Day, mais aussi une collection exceptionnelle de folioscopes Mutoscope-Biograph et leurs roues, ainsi qu'une visionneuse de films 68mm:
https://www.cinematheque.fr/fr/catalogues/appareils/collection.html?search=Mutoscope
Will Day Collection (135): One Biograph camera, the second instrument fitted with film punches, and a rolling dog movement with the advantage of daylight loading external spool boxes with spider spools. 1897. There is also a viewfinder fitted with bellows front (Will Day, Illustrated Catalogue of the Will Day Historical Collection of Cinematograph and Moving Picture Equipment, London, 1930, p. 22).
https://www.cinematheque.fr/fr/catalogues/appareils/collection/camera-film-68-mmap-95-1435.html
Will Day Collection (136): One Biograph Camera, the third instrument to be produced was also used for taking Mutoscope pictures. Complete with lens and equipment in a leather case for 2 ¼ inch film, 1898 (Will Day, Illustrated Catalogue of the Will Day Historical Collection of Cinematograph and Moving Picture Equipment, London, 1930, p. 22).
https://www.cinematheque.fr/fr/catalogues/appareils/collection/camera-film-68-mmap-95-1434.html
Collection Will Day. Modèle très proche de la toute première caméra américaine de la Biograph : voir Gordon Hendricks, Beginnings of the Biograph, New York, The Beginnings of the American Film, 1964, ill. n° 3.
https://www.cinematheque.fr/fr/catalogues/appareils/collection/camera-film-68-mmap-95-1433.html