< Program < Cinémathèque française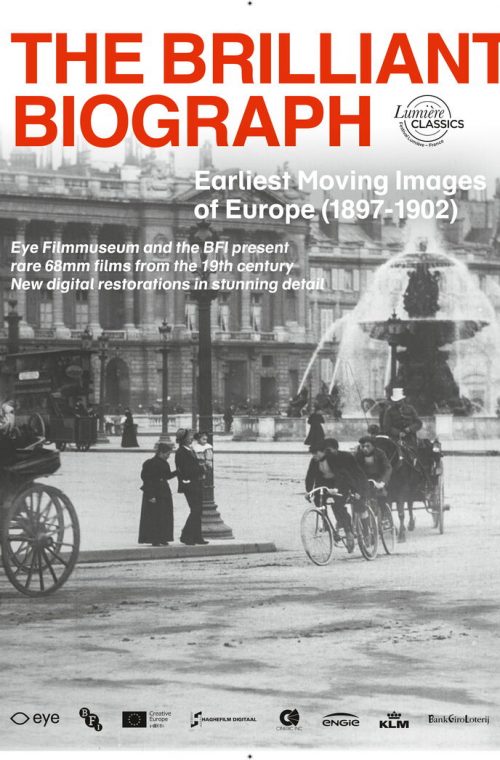 1897-1902, 52 min, black and white / colors (hand-painted), format 1.33 / music
English intertitles, French subtitles
Netherlands, compilation made in 2020 by Frank Roumen
Musical accompaniment by Daan van den Hurk
Courtesy of EYE Filmmuseum
Now on EYE Film Player!
Summary
A compilation of 68mm films from the Mutoscope-Biograph Collection of the EYE Filmmuseum in Amsterdam and British Film Institute (BFI) in London. The rare image quality is a result of W.K.L. Dickson's invention (with Elias Bernard Koopman and Hermann Casler). A contemporary of the Lumière Bros., Dickson was convinced of the great potential of public motion picture projection, and the need to surpass Edison's Kinetoscope, designed for monadic viewing only. Join us for this musical tour of the early European motion picture, with cinematographic postcards of Venice, Berlin, Amsterdam and London, and documentary scenes of everyday life, from the waterways to the stage. Artists, workers, children, athletes, Parisian women, everyone poses for the Biograph. With image definition approaching that of IMAX projections, here is Europe of 120 years ago!
I. Daily Life
Recreation in Scheveningen, NL 1898
Countryside Near Amsterdam, 1898
Hungarian Family, 1897
Pleasure in Berlin, 1899
Public Transport in Amsterdam, 1899
Funeral Procession in Rome, 1898
Flower Parade in Haarlem, NL 1899
Capuchin Monks in Vatican City, 1898
The Vegetable Market in Venice, 1898
Inventor William Kennedy-Laurie Dickson Feeding Pigeons in Venice, 1898
Audience Leaving Circus Carré After the Biograph Show in Amsterdam, 1899
From Monte Carlo to Monaco, 1899
II. Riding the Waves
Malta, 1901
Scheveningen, NL 1898
Muiden, NL 1900
Southampton, UK 1898
The River Zaan, NL 1898
Naval Exercise, UK 1899
Portsmouth, UK 1899
Warships, UK/DE 1900
Conway Castle, North Wales, UK 1898 (hand-colored)
III. Greetings from…
Paris. Place de la Concorde, 1897
Berlin. Altes Museum, Unter den Linden and Friedrichstrasse, 1897 and 1899
London, 1899
Southampton High Street, 1900
Amsterdam. Central Station and Prinsengracht, 1898 and 1899
Venice. Grand Canal and Ponte dei Sospiri, 1898
Maidenhead junction, UK 1898
IV. Moving Forward
Captain Deasy Promoting Martini Cars, Switzerland, 1903
Launch of the 'Oceanic', the Largest Vessel Ever Floated, Belfast, 1899
Iron Foundry Workers, Newcastle, 1899
The Marvin Electric Drill, 1898
Sir Hiram Maxim Demonstrating His Guns, 1897
Advertisement for Rudge-Whitworth Bicycles, 1902
Windsor Castle, UK 1899
V. Body in Movement
Agoust Family of Jugglers, 1898
Upside Down Boxers, 1899
Orphan Girls in Amsterdam, 1899
French Military School Exercise, 1897
Catching the Ferry in Amsterdam, 1899
The Island of Marken, NL 1899
Roma Camp, 1897
The Tarantella, 1898
At the Ancient Forum of Pompeii, 1898
'Les Parisiennes', 1897 (hand-colored)
Acknowledgements
In 2000, the Pordenone festival, Le Giornate del cinema muto, featured the first 35mm restorations of Mutoscope and Biograph films edited by Nico de Klerk (historian-archivist at Nederlands Filmmuseum, now EYE). In 2020, digital technology has made it possible to recover these 68mm films (a non-standard format) without any reduction of the image during its restoration: all the exceptional characteristics of this wide format (six to seven times larger than 35mm) have been preserved. The Brilliant Biograph program is a compilation of about 50 films recently restored in 8K by EYE, thanks to funding from the European Commission (European Tribute to Film Heritage), in cooperation with the BFI in London. A 4K DCP with music was produced in 2020 by EYE, to ensure wide distribution of this fantastic repertoire. Special thanks to Elif Rongen-Kaynakçi (EYE).
Check out the Mutoscope-Biograph collection dossier on the EYE website:
https://www.eyefilm.nl/en/collection/search-and-watch/dossiers/68mm-the-mutoscope-and-biograph-collection-at-eye
Check out the "making of" documentary on the film's 2020 restoration (including many original 68mm shots): https://youtu.be/S0s9-YrYs0E
Check out the three 68mm Mutoscope-Biograph 68mm cameras (1896-1898) of the Will Day Collection preserved at the Cinémathèque française, as well as an exceptional collection of Mutoscope-Biograph flipbooks and wheels, along with a 68mm film viewer:
https://www.cinematheque.fr/fr/catalogues/appareils/collection.html?search=Mutoscope
Will Day Collection (135): One Biograph camera, the second instrument fitted with film punches, and a rolling dog movement with the advantage of daylight loading external spool boxes with spider spools. 1897. There is also a viewfinder fitted with bellows front (Will Day, Illustrated Catalogue of the Will Day Historical Collection of Cinematograph and Moving Picture Equipment, London, 1930, p. 22).
https://www.cinematheque.fr/fr/catalogues/appareils/collection/camera-film-68-mmap-95-1435.html
Will Day Collection (136): One Biograph Camera, the third instrument to be produced was also used for taking Mutoscope pictures. Complete with lens and equipment in a leather case for 2 ¼ inch film, 1898 (Will Day, Illustrated Catalogue of the Will Day Historical Collection of Cinematograph and Moving Picture Equipment, London, 1930, p. 22).
https://www.cinematheque.fr/fr/catalogues/appareils/collection/camera-film-68-mmap-95-1434.html
Collection Will Day. Modèle très proche de la toute première caméra américaine de la Biograph / A model that is very close to the first American Biograph camera: voir/see Gordon Hendricks, Beginnings of the Biograph, New York, The Beginnings of the American Film, 1964, ill. n° 3.
https://www.cinematheque.fr/fr/catalogues/appareils/collection/camera-film-68-mmap-95-1433.html